Lombardi's Reboot to reconnect the industry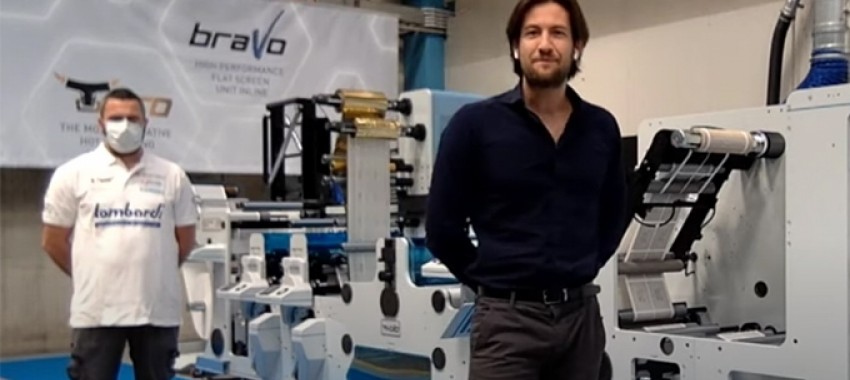 Lombardi Converting Machinery has started a series of weekly live broadcasts from its headquarters in Brescia, Italy as a new way of reviving the market amidst the Covid-19 pandemic social distancing rules.
Reboot is an interactive online format created to reconnect the company with its stakeholders, customers, representatives, suppliers, and the converting and packaging market in general.
'I was looking for a way of reconnecting people the industry who gravitate around our company. With closed borders, inability to travel and visit the company, technology came to the rescue. The live streaming turned out to be the perfect solution to bring people together again,' said Nicola Lombardi, marketing manager of Lombardi Converting Machinery and the driving force behind the company's Reboot series.
The first live streaming session took place on May 7 and since become a very popular way of interactive communication with converters from around the world interested in Lombardi's technology.
'Initially the idea was to produce the Reboot sessions only in May but given the success in terms of participation and appreciation, we will continue beyond that time,' added Nicola Lombardi. 'For now, we have shown live demos of our machines, bringing viewers directly into our technology: from the finishing processes to flexographic presses, from hot foiling unit to cold foiling unit. We have conducted a speed test of one of our presses running at 200m/min (660ft/min) and showcased the use of different substrates including 12 microns materials.'
The new Lombardi's communication formula gathered significant interest, both in terms of follow-ups and event participation. Numerous requests received by the company will shape the future content and steer the live streaming sessions into specific topics.
'Our representatives and customers tune in from different continents, countries, companies and offices by sharing and participating in this new experience. The interest translates into numerous messages on all our corporate communication channels, questions, and requests for personalized live demos on topics on request,' concluded Nicola Lombardi.
Weekly, interactive sessions are streamed live on Lombardi's social media platforms, including its YouTube channel every Thursday at 2pm CEST, 8am ET.
---