Digistar ASTRA
The hybrid inkjet solution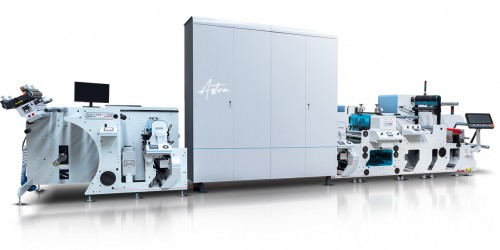 Product

overview
---
Digistar ASTRA, the hybrid digital platform that showcases Lombardi's commitment to innovation and market responsiveness. With its modular and flexible design, it offers a range of benefits, such as achieving high-value label finishing and the combined use of digital and flexographic technologies. In a crowded field of digital and hybrid printing solutions, Lombardi's approach stands out.
Lombardi Converting Machinery's R&D team has transformed all flexo printing machines into "digital-ready" technologies, capable of integrating various digital modules at any time. Over the years, Lombardi has established collaborations with leading digital printing system manufacturers, enabling customers to choose digital printing solutions that align with their specific needs.
The platform, centered around the digital printing engine, integrates the best of flexographic technologies, offering numerous printing and finishing options.
Among these solutions, the variable format die-cutting group, VOLO, stands out. It provides exceptional flexibility in die-cutting formats, minimizing the need for specific cylinders and reducing costs. It can also be used in Full Rotary mode for long runs, justifying the investment in a specific format cylinder.
The hybrid ASTRA platform is compact and flexible, offering over 20 different material paths, opening up a world of possibilities for label creation. It incorporates UV, LED UV, and hot air drying systems for the application of acrylic primers when needed. Lombardi's register control allows the creation of labels with variable data in a single pass.
Both the digital and conventional printing sections are equipped with material temperature control systems, allowing the printing of heat-sensitive materials while maintaining precise register. This capability extends to high-speed and high-quality printing of materials such as shrink sleeves and aluminum in the pharmaceutical field.
ASTRA, primarily designed for short runs, can effectively handle longer runs at high speeds, offering versatility and precision to meet label printing needs.
With ASTRA, Lombardi redefines industry standards and offers a glimpse into the future of label printing.
Main

features
---
Machine developed for the finishing of labels pre-printed using digital or other impression processes:
Features include:
Flexo Unit with electronic register and format control:

Ensures precise alignment and consistent quality.
Electronic controls for accurate registration.

Fixed magnetic cylinder with automatic format correction:

Utilizes a single magnetic cylinder for all job formats.
Automatic format correction for seamless production.

Extreme quick job changeover:

Rapid transition between different label jobs for increased efficiency.

Modular design with optional units:

Allows customization and expansion with optional units to meet specific needs.
Optional Units:
Flat screen unit: Offers flat-screen printing capabilities.
Hot stamping flat unit: Provides hot stamping for labels.
Semi-rotary hot foil with format correction and foil saver: Allows semi-rotary hot foil application with format correction and foil-saving features.
Flat embossing: Adds flat embossing effects to labels.
Longitudinal cutting: Precise longitudinal cutting for label finishing.
This machine is designed to streamline the finishing process of pre-printed labels, enhancing productivity and versatility while maintaining high-quality results.
Find a dealer
---
Select a zone to view dealers:
Request for information
---
Contact us for any information or to request a quote for this product.