Invicta i2
Advanced Technology for Mid-Web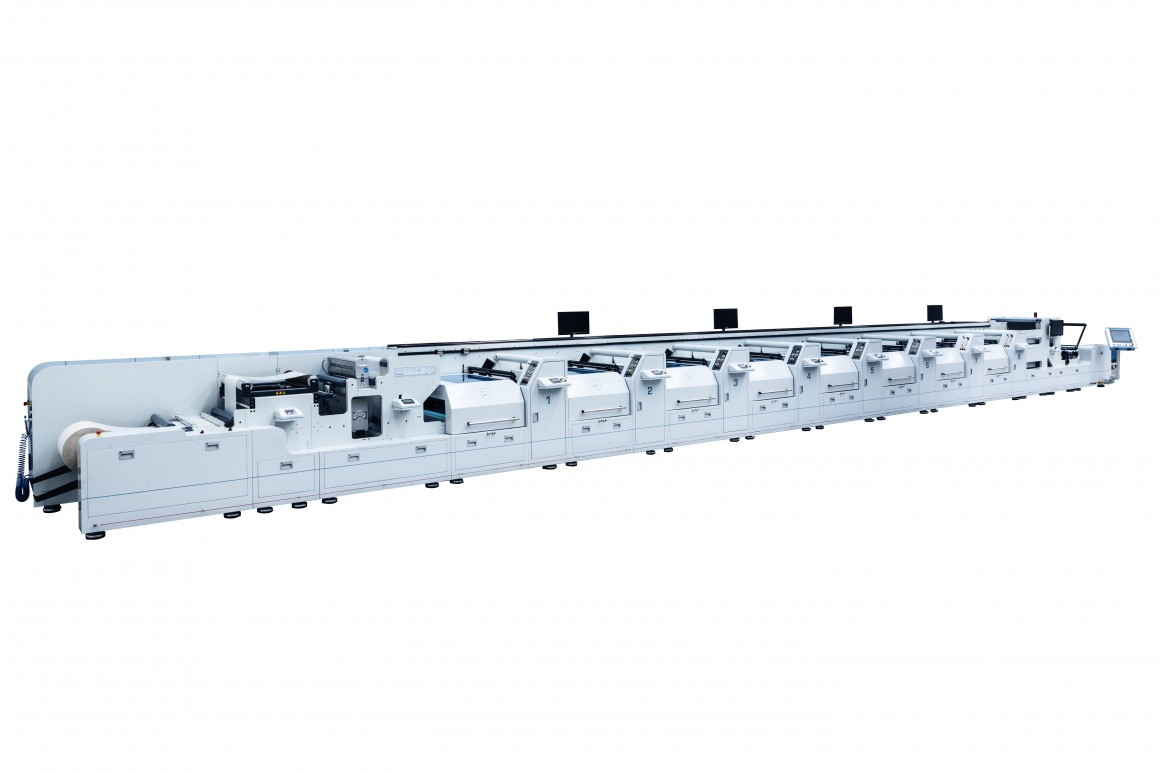 Product

overview
---
Introducing the INVICTA i2 - a Revolution in Mid-Web flexographic printing industry
Prepare to be amazed by the sheer brilliance of the INVICTA i2, a mid-web printing machine that sets new standards in the industry. This is more than a press; it's a revolutionary powerhouse, and here's why:
Gearless, Shaftless, Direct Drive: The INVICTA i2 doesn't just use cutting-edge technology; it defines it. Gearless, shaftless, and boasting direct drive on the key elements of the printing unit—sleeve shaft, anilox shaft, and drum shaft—it delivers precision, efficiency, and unmatched performance that's a true game-changer.
Guaranteed Quality: With its 50mm shoulder frame, this press is synonymous with guaranteed quality. It's not just a machine; it's your ticket to exceptional results.
Unparalleled Web Width: offering web widths of 750 mm, 850 mm, and 1100 mm, the Invicta i2 is a versatile workhorse designed to excel in a wide range of applications.
The Largest in Its Class: The model 1100, combined with a maximum print development of 36", allows you to print a staggering 1 square meter of web, making the INVICTA i2 the undisputed giant in terms of processable substrates within its category.
Automation at Its Pinnacle: With 10 motors for each printing unit, this machine takes automation to unprecedented levels. Say goodbye to guesswork and hello to efficiency and precision like never before.
Streamlined Setup: Equipped with a full electronic pre-register system, register system, and print pressure system, the INVICTA i2 ensures the finest quality and the shortest setup downtime. Each printing parameter can be effortlessly saved on a dedicated recipe page, making your life easier and your results exceptional.
INVICTA i2 isn't just a mid-web press; it's a revolution in flexographic printing. Elevate your business, redefine your expectations, and unlock your full potential with the INVICTA i2 — where excellence meets innovation.
Main

features
---
INVICTA i2 sizes
Invicta has a maximum development of 36 inches (914 mm).
This press can print any type of filmic material,and aluminum as low as 12 MY.
Invicta i2 can print plastic films for, roll fed, Shrink and Stretch applications as well as multi substrates, aluminum, light carton.
Even distribution of Ink, is guaranteed thanks to anilox shaft of 150 mm Diameter and anilox sleeve mounted on mandrel 420 of 127,144 mm.
Quick change inking system, thanks to close chambers doctor blade featuring automatic inking and automatic washing.
Drying options:

UV mercury

UV led

Electron beam

Hot air dryers for solvent-based ink

Hot air dryers for water based ink
Find a dealer
---
Select a zone to view dealers:
Request for information
---
Contact us for any information or to request a quote for this product.