Labelexpo 2019: Technology. Beauty. Flexo.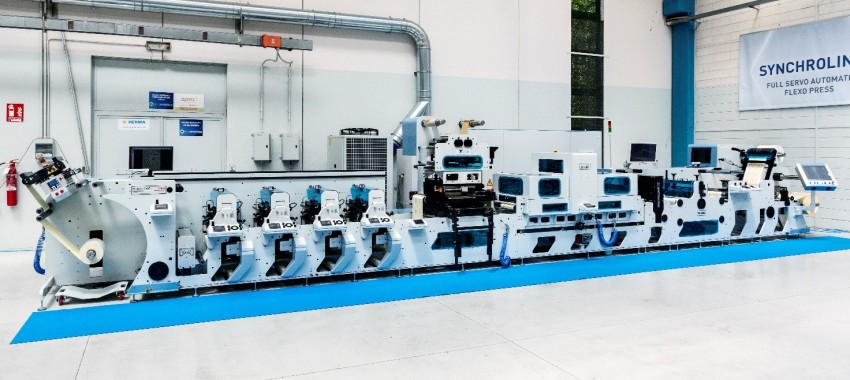 Lombardi Converting Machinery S.p.A will show the technological potential developed in recent years at the Labelexpo2019.
Company's constant research and development has one goal: to break down the existing limits in the printing industry with cutting-edge and future-oriented solutions.
Three presses targeted to three different fields of application will be displayed:
label printing, digital and finishing and flexible packaging.
SYNCHROLINE: Fully servo flexo press.
Renowned all over the world for its user friendliness and effciency.
The classic model of the Lombardi product range able to print any type of material.
DIGISTAR INKJET: the hybrid press that combines digital (Domino) and flexographic printing in one unique solution, equipped with the special range of Lombardi finishing units.
-TORO: the in-line flat bed foil embossing and hologram in-setting system. The ideal solutions for labels, wine, spirits, security.
Its turnable head allows the processing of several foils in a single pass. High stroke frequency.
-BRAVO: the flat bed screen printing unit capable to highlight finest details, volumes and color intensity impossible to obtain with other printing technologies. Easy in house preparation of screens, lower screen cost and compatibility with the whole gamma of screen inks are just some of the features that make this unit unique on the market.
-VOLO: the semi-rotary die-cutting unit running at speeds up to 80m/min. One magnetic cylinder for all prints formats reduces the downtime between each job and increases safety in the workplace by no cylinder change.
INVICTA - i2: exclusive world première of the brand new line created for high quality flexible packaging in the MID WEB sector.
Strong, powerful structure of the line with 50 mm thick frame.
Completely GEARLESS as well as SHAFTLESS with DIRECT DRIVE motorization of the 3 print axes: anilox, plate and chilled drum.
Print format up to 36" and web width up to 1100mm: the only in-line press in the market reaching up 1 square meter of printable material.
---