Double Lombardi installation at Fortis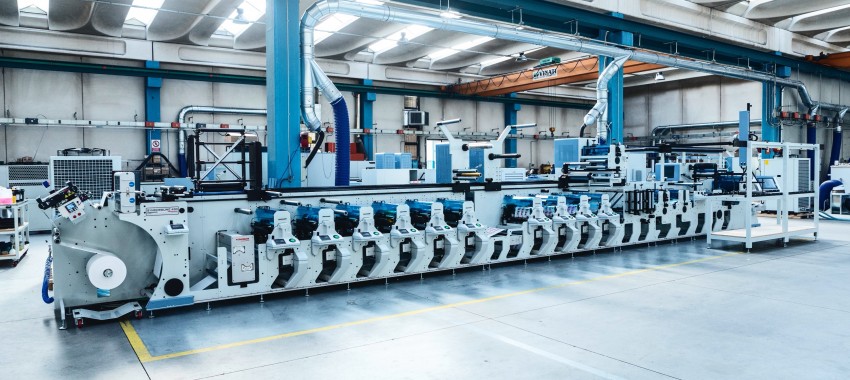 Fortis Solutions Group has invested in two 24" SYNCROLINE flexo label presses from Lombardi Converting Machinery to meet growing demand.
When considering which press to purchase the key criteria included reliability, given that the equipment is expected to run 24 hours a day, seven days a week.
'While the SYNCHROLINE system was a little more expensive than some traditional non-servo press options,' said Ken Pizzuco, chief supply chain officer for Fortis, 'the printing speed will provide a greater long-term return on investment. The operators also appreciate the lower profile for enhanced ergonomics, simple web paths and user-friendly operation.'
'The secret of our success is that with our expanded geographic footprint, we are close to our customers. We work like a 'mom and pop' shop but with the benefits of scale.' Said Mr Pizzuco. 'We're very nimble and customer centric, and our suppliers need to be nimble, too. I enjoyed working directly with decision makers at Lombardi and Matik. They are technically knowledgeable and responsive. Receiving answers quickly cut months off the design and purchasing process.'
Lombardi provides narrow- and mid-web solutions and produces modular flexographic printing machines equipped with standardised automation systems that can be configured to meet the specific needs of customers. Lombardi SYNCHROLINE Flexo presses deliver maximum versatility for printing on a wide range of materials, including BOPP, PVC, PE, PET, paper, adhesive paper, paired materials and cardboard. SYNCHROLINE has a fully automatic electronic preregistration system that minimizes waste and setup time, and delivers maximum precision.
Fortis Solutions Group provides a variety of packaging solutions, in particular pressure-sensitive labels that include extended content and booklet labels, flexible packaging, shrink sleeves, specialty cartons and applicators. The company serves the food, nutraceutical, health and beauty, automotive, beverage, wine and spirits, cannabis, industrial and pet care markets.
---