LOMBARDI CONVERTING MACHINERY AND IMAGEWORX TOGETHER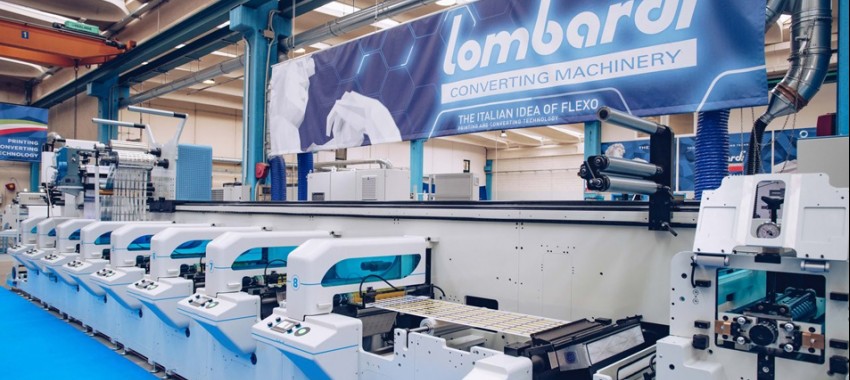 A new partnership for Lombardi Converting Machinery that lands in the U.S.A. with a demo center.
Imageworx has announced the launch of a new division of the company, the opening of a new cooperative endeavor, the Flexographic Technology Center. Opening in April 2023 in Levittown, PA, just a short drive from both Philadelphia and Newark International airports, Imageworx with be hosting a consortium of industry vendors to collectively demonstrate their prime technologies to the flexo industry.
The new Imageworx Technology Center is anchored by the Lombardi Synchroline 430 UV flexo press and the Lombardi Digistar 430 UV flexo finishing press, showcased in a newly renovated modern 7,000 square foot demo center. The new Lombardi presses are outfit with all of the essential components to demonstrate the high-end innovative embellishment options that narrow web flexo printing has to offer. The Lombardi Synchroline flexo press will feature 9 flexo stations along with cold foil, 1 turn bar, 1 Domino K600 inkjet industrial printer and a BST Tubescan. The Digistar finishing and embellishment press will feature 3 flexo stations along with 1 Lombardi Toro in-line flatbed foil hot stamping and embossing unit, with the capability for holographic in-setting, 1 Lombardi Bravo high performance flat screen-printing unit, 1 turn bar, 1 cold foil, and a Volo high speed semi-rotary die cutting system.
Imageworx will carry the complete Lombardi line of equipment along with other select premium equipment designed to enhance the quality and functionality of label and shrink production. Along with Lombardi, Imageworx will feature the world's finest plate mounter, the FlexoMatrix from Lehner, a German sensor manufacturer who has engineered the most technologically advanced and accurate 360-degree mounter available. Additionally, the new Technology Center will showcase an advanced slitter rewinder from KOR Engineering, and anilox cleaning system and parts washer from Alphasonic.
"The partnership with Lombardi opens up a new world of opportunities for Imageworx and our customers", states Jeff Toepfer, president of Imageworx. "We are eager to showcase the Lombardi product lines to visiting customers and enthusiastic to demonstrate our latest technical advancements in prepress and print to the world."
Nicola Lombardi, Marketing Manager of Lombardi Comverting Machinery, adds: "I am very excited about this new adventure together with Imageworx. This collaboration represents a fundamental step in Lombardi Converting Machinery's journey; to enter the United States market with the best of our flexo printing technology and with an exceptional partner with whom we immediately found a strong understanding. We are ready!"
"We have developed valuable partnerships with over 30 industry vendors who are eager to showcase their products in our showroom", adds Toepfer. "Not only will visitors have the opportunity to preview top of the line printing equipment, but we are ready to showcase all of the necessary components that go into producing the top-level label or shrink product. A-Z demonstrations will be available showcasing ideal practices for prepress, plate making, precision plate cutting, mounting, printing and set up, finishing, and inspecting."
---